After taking a class on spinning with color from Janel Laidman at Blacksheep Gathering I have a new fascination with space dyed fibers.  In class we played with a technique she developed called fractal spinning. Knitty refers to this technique as:
"Fractal Spinning*" is nothing more than a fancy name for a particular way to divide up your fiber for spinning, in order to show off the colors in a certain sequence in the finished knitted or crocheted project. The name comes from a mathematics term, defined as "a rough or fragmented geometric shape that can be split into parts, each of which is (at least approximately) a reduced-size copy of the whole." Which is pretty much what you're doing to your fiber.  This method allows you some degree of control over the subtle striping that your yarn will do later, and can give you lovely, well-balanced colors in the finished piece. Plus, it's curiously fun.
Curiously fun is right.
I started with a 4-oz braid of alpaca roving. Space dyed in mirrored repeats.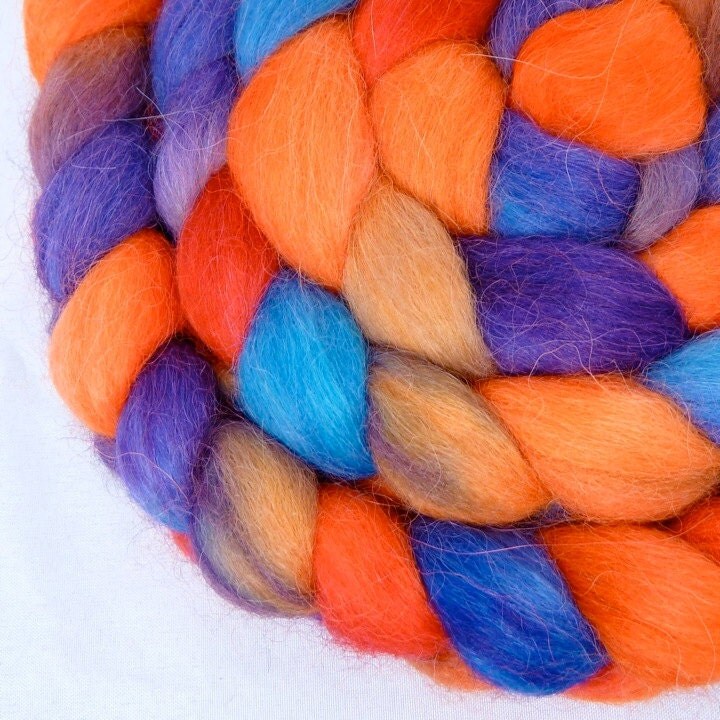 I split the roving down the middle into two 2-oz portions. I took one long piece and I tore it apart, reordering the colors so that they were no longer mirrored, but instead ran in consistent repeats.  Then I spun that half straight.
I took the other half of the roving, tore it apart as outlined above, but then I tore each thick strip into skinny strips (approximately eighths).  Then I spun those skinny strips on a separate bobbin.
Next I plied the singles. Just a simple two ply.
Then i wound them onto a niddy-noddy, washed them, whacked them and dried them.
When knitted up, we should see some gorgeous striping patterns. More subtle than what I would get if I had spun the whole strip of roving straight.